Share
OLISO PRO VS95A (SILVER) SMART VACUUM SEALER STARTER KIT
Regular price

$0.00

Sale price

$90.00
The Oliso® Pro™ Smart Vacuum Sealer now comes in a silver finish to match the other appliances in your kitchen! When the question is how to keep your food items fresh the answer is the Oliso Smart Vacuum Sealer. Our multi-layered vacuum storage bags, combined with our patented punch-and-seal technology keeps food fresh up to 5 times longer. Stop cutting, reduce waste, and save time and money. Reusable heavy-duty zip-top bags make vacuum sealing a breeze while the easy to clean dishwasher safe drip tray holds up to 6 oz. of liquid. No touch operation - fully automatic bag detection means just insert and go. The Oliso Smart Vacuum Sealer is among the highest quality home vacuum sealers. It features dual motors,a pump that has been tested for one thousand hours, and a microprocessor for precision control. Great for Sous Vide! 
Starter Kit includes:
(1) Oliso® PRO™ VS95A (silver)
(1) Flexi Tube
(1) Zip Disc
(1) Wine+Olive Oil Freshkeeper
(3) Quart Frisper Bags
(2) Gallon Frisper Bags
Product Features:
Award-Winning Design, patented technology, Oliso® PRO™ VS95A creates a tiny opening in the bag, removes air and creates an airtight heat seal
Easy, no-touch operation
Dual motor
Commercial vacuum power
Fits comfortably in a kitchen cabinet or counter top
Eco-Friendly:  BPA-free, reusable bags
Compatible
Compatible with all Oliso vacuum sealer accessories
Two sealing options for moist or dry
Stop and seal for soft/breakable foods
Easy to Use
Automatic bag detection - just insert and go
Select "MOIST" or "DRY" settings for greater precision
Progress indicators
Large, easy clean drip tray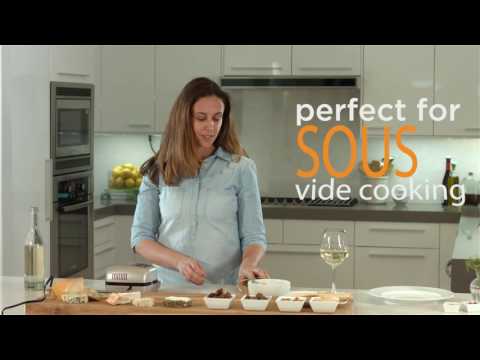 Customer Care
Chat With Us

Call, email, or message us; we're here to help you get the most from your oliso product.

Questions

Find the answers to frequently asked questions

Instructions

Find the instruction you need for your oliso product here.

Warranty

Experience peace of mind with our quality, supported by a 30-day money-back guarantee and extended warranties.